Media Coverage:
Article 1
Yoga Fans...
MARLA MEENAKSHI JOY & RON REID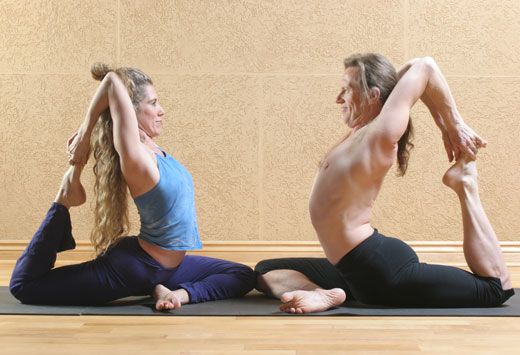 RON REID
Ron Reid has been practicing yoga for over 30 years and teaching since 1988. He is co-owner and director of the Downward Dog Yoga Centre in Toronto, Canada. He has studied with Sri K. Pattabhi Jois and Sharath both in India and North America and was one of the first Canadian teachers to be authorized by Pattabhi Jois. In addition to regular classes at Downward Dog, he conducts workshops and teacher trainings in Canada, the U.S., Europe, the U.K. and Asia, and is becoming a familiar face at conferences around the world.
Ron is one of Canada's top teachers, approaching teaching in an inspired, informed and non-dogmatic way. He places the needs of the students ahead of the demands of the practice. While continuing to teach and practice the ashtanga vinyasa system as a foundation, he endeavours to blend tradition with innovation and to balance precision with grace. Students will find his refined approach to practice both challenging and rewarding.
Ron developed Downward Dog's mysore program in 1997, making it the first of its kind in Canada. As an experienced practitioner of Ashtanga's Primary, Intermediate and Advanced series, Ron has sought to share his respect for the natural intelligence of the body and his intuitive understanding of anatomy as it applies to yoga with his students. Ron has shared his insights in the Mysore room with students from all over the world, providing for each the possibility of innovation, stability and transformation in a 'traditional' yoga practice.
Prior to the opening of Downward Dog in July 1997, he spent many years in the music business performing and writing music for performance, film and dance. His music influences are vast, and his connection to the spirit and soul of music is seen in his deep understanding of Yoga both on a physical level and etheric level. He bridges Hatha Yoga and Nada Yoga (the Yoga of Sound) effortlessly.
Currently travelling internationally sharing their love of music and the art of yoga, Meenakshi and Ron enjoy the opportunity to dive into the depths of a complete practice with people, filled with Bhakti, laughter, the beauty of the physicality of the yoga practice as well as the deep philosophical basis for it's existence.

Please see the "CD" page for Swaha's CD's entitled "Salutations", "Vishnu's Dream", "Bolo!", and their latest download "Shanti Pulse" for Yoga class...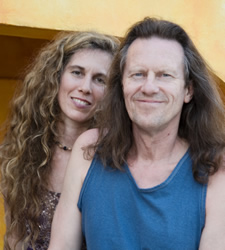 MARLA MEENAKSHI JOY
Marla Meenakshi Joy, co-owner and co-director of Downward Dog Yoga Centre, first traveled to India in 1988 to study meditation and the philosophy of the Vedas with Swami Shyam as well as other learned scholars in the Himalayas. She is a Certified Meditation and Yoga Philosophy teacher from the International Meditation Institute in Kullu, Himachal Pradesh, Himalayas.
She has been teaching in teacher training programs since 1999, as both a teacher of Philosophy and Sanskrit, Vinyasa Yoga and Restorative Yoga. She has completed over 500 hours of Teacher Training with Ron Reid, Chuck Miller and Maty Ezraty, among others, and is a Yoga Alliance Certified Teacher.
Since then she has been teaching Ashtanga Yoga, Swaha Yoga, Restorative Yoga, Yogadance, Meditation, Yoga philosophy, Sanskrit and Chanting privately and in yoga studios in Canada, the U.S., the U.K., Europe and Asia. As a practicing Shiatsu Therapist since 1993, and teacher of Mysore (Self-Practice) around the globe, Meenakshi has a healing and informative touch.
She also leads Kirtan (call-and-response chanting) with her band SWAHA, in inspired musical compositions along with her partner/keyboardist, Ron Reid. They have produced several CDs of Sanskrit chanting entitled, Prayers, Salutations, Vishnu's Dream, Bolo!, Shanti Pulse, and their newest CD, Gone Beyond.