FOR YOGA WORKSHOPS / INTENSIVES WITH RON REID AND MARLA MEENAKSHI JOY at DOWNWARD DOG, PLEASE VISIT: www.downwarddog.com AND https://www.facebook.com/SwahaYogaToronto/
FOR RON REID'S AND MARLA MEENAKSHI JOY'S ASANA CLASSES IN TORONTO, PLEASE VISIT:
www.downwarddog.com
[ CLICK HERE TO SEE PAST YEARS' WORKSHOPS ]
UPCOMING EVENTS 2018
February 16 - May 6 (several weekends)

RYS 200 Teacher Training Spring weekend Format
Downward Dog, Toronto, Canada
March 10-11
Sanskrit: The language of yoga: workshop with Marla
Downward Dog, Toronto, Canada
May 7-21

Intensive 100 hr. Teacher Training (Ashtanga and Restorative )
Nosara, Costa Rica
May 23-27
Daniel Aaron's "Vibrant Life Yoga Teacher Training"
Omega Institute, Rhinebeck, New York
July 3-27
RYS 200 Teacher Training, Summer Intensive Format
Downward Dog, Toronto, Canada
September 8-15
Ashtanga/Vinyasa & Kirtan Retreat
Triopetra, Crete
September 21-December 2 (several weekends)

RYS 200 Teacher Training fall weekend Format
Downward Dog, Toronto, Canada
Oct. 22-26
"The Art of Vinyasa" Advanced Teacher Training and Intensive/Open workshops
Paris, France
Oc. 28-Nov. 3
"The Art of Hands on Assists"/Mysore Intensive
Tel Aviv, Israel
November 8-22
South Indian Temple Tour: "The Yoga of Ritual and Devotion", with Ron Reid, Marla Meenakshi Joy, and Xenia Ananda Shakti
For info and to register, please contact: meenakshiswaha@gmail.com
WORKSHOPS OUT OF TOWN 2014
SWAHA AT BHAKTIFEST!
June 20-22, 2014
For their fourth return to this festival, Ron and Meenakshi will be teaching 3 classes as well as doing a kirtan. Bhakti Fest Midwest is not to be missed!
CLASS IN NYC!
Wednesday, june 25, 2014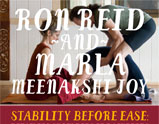 at The Shala! (union square)
10:15-11:45am
With ron reid and marla meenkashi joy
Stability before ease: detailing shoulders in backbends
For Intermediate/Advanced students and teachers
$35

Click on the thumbnail to download poster.
WORKSHOP IN NYC!
June 28, 29, 2014
at Ashtanga Lab
www.ashtangalab.com
For full workshop details, please visit: www.ashtangalab.com/#!workshop
WEEKEND WORKSHOP AT YOGA WORKS, SANTA MONICA, CA
"POWER AND GRACE"
August 22-24th, 2014
Please click here for full details:
www.yogaworks.com/events/workshops/
The Art of Vinyasa teacher training, Mysore classes and Swaha Kirtan (Stockholm, Sweden)
October 15-22, 2014
Fore more details, please visit:
www.atmajoyti.se
www.atmajoyti.se/en/courses/
Ashtanga Yoga Refined (Helsinki, Finland)
Weekend workshop and Swaha kirtan
October 24-26, 2014
Fore more details, please contact Lana:
lana@lanaprana.fi
Build an inspired and sustainable Ashtanga Yoga practice (Paris, France)
Weekend workshop and Kirtan
October 31-November 2, 2014
Fore more details, please contact Lana:
www.ashtangayogaparis.fr
Weekend workshop in Tel Aviv, Israel
November 6-9th, 2014
at Lotus Yoga

Fore more details:
www.lotusyoga.co.il
Teacher training at Radiantly Alive in Ubud, Bali!
November 15-19th, 2014
at Radiantly Alive

Fore more details:
www.radiantlyalive.com
Ron and Meenakshi teaching Mysore at Babylon Yoga Centre
in Vancouver, B.C. August 2010